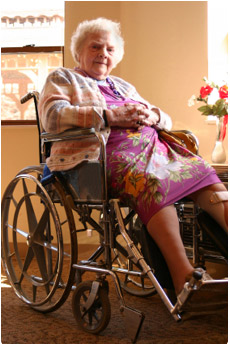 San Antonio Nursing Home Abuse Attorney
The Law Office of Nadine M. Nieto investigates and reviews potential claims for injuries suffered as a result of nursing home neglect and abuse. Even though an individual is confined to a nursing home, they still deserve proper care and treatment.
Unfortunately, nursing home neglect injuries are suffered with surprising frequency resulting in a loss of dignity, self-respect and quality of life for our loved ones.
We fight the injustices and indignities of nursing home abuse on a regular basis. If you suspect that nursing home abuse is happening to someone you love, there are things you can do to put a stop to it. One of the most important things is to talk with an elder abuse lawyer who has experience with nursing home abuse cases. We do, and we can help you.
Signs of Elder Abuse
Signs of nursing home abuse to look for include:
Unexplained injuries including bruises or explanations that just don't make sense
Falls and Fractures
Extremely withdrawn and non-communicative
Unusual behavior or Emotional Agitation
A Basic Neglect of Hygiene
Lack of care for existing medical problems
Dehydration and malnutrition
Rapid weight loss or weight gain without physician or family notification
Residents wandering unattended or leaving the facility
Bedsores (also known as pressure sores or decubitus ulcers)
Profits over People
Staff related issues are the single biggest reason that residents of nursing homes and patients at other facilities are injured or do not get the care they need, despite the profit that these facilities accumulate annually.
In general, these jobs are low-paying, have a high turnover ratio and are often filled by employees with little training and skills. Typically the biggest problem is that there are not enough staff members to take care of the residents at the facility. Labor costs are cut frequently to increase profits at the expense of our loved ones.
Dignity and Justice - Call (210) 298-0088
You can do something to stop nursing home and assisted living facility neglect. Call (210) 298-0088 to request a free consultation and legal claim evaluation to determine if your friend or loved one has a claim. There are no fees or expenses unless a recovery is obtained.